About Us
Stan Kimbrell
Stan Kimbrell began learning to restore antique pump organs at about age 10 from his father and continued to help his dad as a teenager and young adult.  After graduating from college with a BS in history and political science, he ran away from home and got commissioned as an Air Force officer, posted at assignments throughout the world.  During this time, he did a few antique pump organ and melodeon restorations on the side.  After retiring from the Air Force as a major, he went to work for the Department of Homeland Security near Washington, DC as a GS-13.  A few years later he decided to leave that job and return to his hometown of Florence, Alabama, where he and his dad share a workshop dedicated to the professional restoration of antique pump organs and melodeons.
Stan has a masters degree in Public Administration and another masters degree Secondary Education.  He has taught US History courses over several semesters at the University of North Alabama as an adjunct professor.  Besides pump organ restorations, he is an avid pilot and flies trikes.  He also has a passion for travel and has been to Europe twelve times since 2002.  His daughter, Lauren, is an amazing pianist, who enjoys playing pump organs when she and her husband Brent are visiting from their home in California.  Stan also enjoys visiting California whenever he gets the opportunity.
click images below to view larger versions
Coleman Kimbrell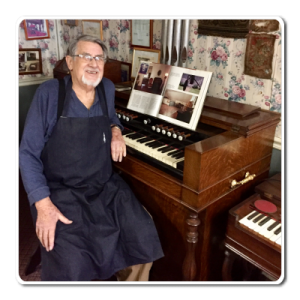 Coleman Kimbrell grew up in the countryside near the small town of Jasper, Alabama in a rural house, without plumbing or electricity.  In 1944 at the age of 14, Coleman restored his first reed organ, which had been badly damaged by mice.  He bought it from one of his aunts for one hard-earned dollar and had it brought to the house in a horse drawn wagon.  Many other repairs for neighbors and friends followed.  He grew up, spent two years in the army during the Korean War conflict, went to college and became a federal agent with the US Department of Labor.  In 1962 he and his wife and family moved to Florence, Alabama, where he opened a regional office for the Labor Department.  He bought an old pump organ from a junk shop for $7.50 and spent the entire winter restoring it before he was happy with his efforts.  Word got around and there has never been a time since when there wasn't an organ waiting to be restored and his hobby became very active.  As sons Stan, Gregg and Eric became old enough, they too began to help out with restoration work and learned the complexities of the process.  Coleman retired from the Labor Department as a federal investigator in 1989.  His hobby-business was expanded to full-time and a larger shop was purchased and outfitted to specifically restore reed organs.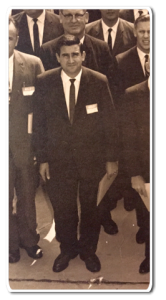 To date, Coleman has restored more than 500 organs and melodeons, many of which are in museums and public places.  More than fifty articles on the subjects of restoration, history, and reed organ technology have been written by him and published in the quarterly professional journals of The International Reed Organ Society.  At the 2009 gathering of that organization's members in Lebanon, Pennsylvania,  he became the seventh person to receive the prestigious "Lifetime Membership Award" for outstanding service in the preservation of antique reed organs.  He also originated and incorporated the idea of designating a serial number for each of his professional restorations, which is tied to the certification and warranty provided for each restored instrument.  He states that each organ restoration is a challenge: to restore the grandeur and glory of the instrument, to capture its history and preserve its integrity, and to contribute to the continued enjoyment of a great American icon, by preserving these instruments in pristine appearance, with the original full musical capacity.  This has been the fulfillment of his craft and has been continued through the family business by his son Stan.